Official TUGBBS Rescission Master
TUG Lifetime Member
Joined

Jun 9, 2019
Messages

3,067
Reaction score

2,437
Points

399
Location
Resorts Owned

Wyndham 77k, VV Williamsburg 4L/4 & 2/2, DRI South Bend 1/1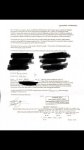 I am slightly frustrated. I bought a TS last month from Sumday.
Sumday's partner, Greatway Services, sent me the attached Warranty Deed, mistakenly backdated and notarized as March 14, 2018. Even the notarized seal memorializing such transfer expired on January 18, 2019.
I think the buyers have either separated, or one buyer has passed away.
If these mistakes are not corrected, I do not wish to move forward with the transfer. I would call the resort to cancel the transfer.
I checked the contract. I'm not responsible for past due MF, but I haven't received an estoppel. As a New York Bar member, I can be reprimanded or sanctioned for any improperly executed transactions, no matter how convenient for all parties involved.
Advice?
Last edited: