Earlier this month, we realized dh had some extra "use them or lose them" vacation days left. So, we found a last minute rental offered on TUG for the Ocean Reef Resort and Yacht Club, not too bad an airfare, and away we went for Christmas week in the Bahamas. Not too shabby. If you click on any of the pictures below, you will be brought to my dh's flickr page with more related images. I have also posted my review of Ocean Reef in the TUG Resort Database (must be a TUG member to view).
We actually left a day earlier than the scheduled check in and were able to book 1 extra night for $129, although we had to change rooms on official check in day. The airfare was about $300 less to fly on Friday instead of Saturday, so it was worth it. We had originally not planned to rent a car, as many people mentioned the plentiful taxies, resort beach shuttles, and availability of public buses (really vans, the taxis are vans too). However, by Friday night we had decided to rent a car. I called the resort's office on Saturday morning and they had a car available for $250 for the week, but it was a 10 year old car. A TUGger had recommended
Brad's Car Rental
, so I checked with them too. We got a similar model, but almost brand new, for $275 for the week. Brad himself picked us up Saturday morning, bringing us back to the airport to take care of the paperwork. Return on the following Saturday was REALLY easy. We parked it right at the departures door and they took it from there, so we didn't even have to deal with a transfer of our baggage to a shuttle.
Anyway, we arrived on Friday and took a taxi to the resort ($22, gave him $25 since he had to deal with 4 bags, 2 heavy). The taxis on GBI are all vans. I was confused at first because a greeter directed me to a taxi, but I thought it was some hotel shuttle. Later I realized that all taxis are these white vans. The public buses are the same type of van, but they say "public bus" on the side. We checked in, but our extra night room was not quite ready (I guess someone had checked out a day early), and since we were hungry, we had lunch at Grouper Grill by the pool. The check in girl brought us our room keys while we were eating.


Would you like a bite of my conch burger?
Our room for Friday night was a 1 BR Studio. I fully describe this unit in my TUG resort review. Let me summarize to say, that it was not in the best repair, but was acceptable if you get it cheaply and just want a place to crash and don't plan to cook lots of meals. After lunch and checking in and moving bags (I didn't unpack until moving the next day), I was wiped and took a nap before dinner. We decided to go to the tourist area of the Port Lucaya marketplace. Walking around a bit, and reading menus, we decided to have dinner at Zorba's. I had recalled some positive reviews on TUG and TripAdvisor for Zorba's and it did not disappoint. Actually, walking in, it reminded me of the Greek restaurants in the
Tarpon Springs area north of Tampa FL
. In fact, the owners moved to GBI from Tarpon Springs twenty or thirty years ago. I loved the blackened grouper. We also tried some souvlaki, conch chowder, hummus, salad, etc. All the food at Zorba's was great, and the service was quite friendly.


The first view of Zorba's. Most of the Port Lucaya restaurants have their menu out front.
After dinner at Zorba's we walked around the marketplace for a bit. Most of the stores were closed as it was getting pretty late, but some were open, like Colombia Emeralds, and there was entertainment at Count Basie Square. The plaza was decorated for Christmas with a big tree surrounded by fake snow. There were some fun singers on the bandstand, click the image below for some more marketplace pictures.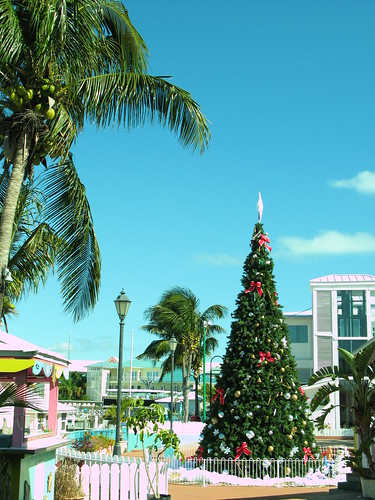 Port Lucaya decorated for Christmas
Just behind the tree, next to the Marina, is Daddy Brown's Conch Stand. This is where we experienced our first Conch Salad. DH became addicted to Conch Salad, which is a healthy addiction to have. Conch Salad consists of equal parts finely chopped conch, tomato, yellow onion, and green bell pepper. Sprinkle with salt, mix. Add the juice of 2 limes and ½ a sweet orange. Stir and serve.
Click here for dh's blog post with video of conch salad being made
. One day we bought it in the evening for the next day's beach picnic lunch. I liked it a little better after it sat overnight in the fridge, the lime juice cooks the conch, like in
ceviche
.
Daddy Brown's also offered Lobster Salad. It is prepared the exact same way as the Conch Salad, except with chopped Spiny Lobster tail. Since the conch is raw, you need the very freshest, almost still alive conch to make it, and lobster tail is pretty expensive, at home in the US, I suggest trying it with briefly boiled shrimp and/or calamari. Truly this is about the healthiest dish you can have on GBI. Most everything else is fried. There are some grilled fish items, but a lot is fried, even if it says stewed, the protein portion may have been fried first. Anyway, we sampled many versions of Conch Salad, but we returned to Daddy Brown's stand at least three times!


Daddy Brown's Conch Salad
We ate so much conch, that dh even wrote a blog entry about it.
Click here
to read his post all about conch salad, conch chowder, grilled conch, etc. Being that we were on GBI during Hanukah, conch fritters were this year's latkes!
Despite a sign at Zorba's (see picture above) saying they sell phone cards, they just have the kind to add minutes to your phone. So, on Saturday, it was our mission to get a Bahamas SIM chip for my unlocked phone. (see my
previous post asking about cell phone service in the Bahamas
). We were told we could get on at Gizmos & Gadgets in downtown Freeport. After renting the car from Brad, we followed his directions and found it without too much difficulty. It is in the Town Center shopping strip off of Pioneer's Way, right around the corner from the Freeport City Market (supermarket).
On the way to Gizmo's we stopped at MaryAnn's for lunch. Brad and his coworker had picked up some take out from there for their lunch, it looked good, so we found the spot he had marked on our map. It is located on West Settlers Way, just east of the circle near it's intersection with East Settlers Way. MaryAnn's features local Bahamian cuisine. We realized that if something is described as "steamed" it is actually braised and has some brown gravy. We shared a bowl of conch chowder, after adding a bit of the local hot sauce (ask for "goat pepper sauce," if you ask for "hot sauce," you get Tabasco), and looking back, I think it was the best conch chowder of the week. We also tried the Chicken Souse. Souse is a soup that you eat for breakfast. We noticed it on Zorba's breakfast menu and since they had some left at lunch time at Mary Ann's, dh ordered a bowl. It doesn't look like much, but it has an interesting sour note to the broth, probably from lime juice.


Chicken Souse, a breakfast soup, at MaryAnn's in Freeport. Click for more pics of MaryAnn's place.
Last edited: