TUG Review Crew: Expert
TUG Member
Joined

Jun 1, 2006
Messages

21,029
Reaction score

26,979
Points

1,348
Location
Resorts Owned

Free Agent
Good Morning, Tuggers! It seems forever since I've had any time to share my life-changing adventures with everyone, but it seems right to take a few minutes now and update things.
1. First things first: We are now located in Mesquite, Nevada. The move from Washington can only be described as an ordeal, but we made it through. Not without a few scrapes and bumps, sore muscles, bone-tired bodies, and many sleep-deprived nights. But we got it done. We had sorted and tossed and given away an awful lot of stuff, but at the end, we still filled a 26-foot truck to the gills - and there was still leftover stuff to dispose of. We still ended up moving things that will be disposed of here in Nevada. I am NOT going to move all this again. But the important part: We're here.
2. Our pets made the trip really well. I had rented a minivan to transport the two dogs, the cat, and my husband Jeff* to Nevada more easily. I was worried about all of them being comfortable, but I needn't have worried. Kona, the younger dog, is nearly blind, and has seizures when he gets outside his comfort zone. Trips to the Vet or Groomer results in multiple seizures, and days of the poor guy walking into walls. Not this time - he had no seizures at all. They all came through just fine.
3. The house in Mesquite is really pleasant, albeit too small. It's a rental, and we knew going in that it was smaller than what we needed, but it's going to work out fine, while we test-drive living here.
4. The house in Washington is cleaned, freshly-painted, and will be going on the market this coming week. Real Estate agents are working on the listing details, and they have all the keys. It's all in their hands now. Cross your fingers for a quick sale. The market there is on fire right now, so we have very high hopes.
5. I am absolutely exhausted. This is why:
I picked up the rental truck and a flatbed car transport trailer on Tuesday, June 23rd, and the minivan two hours later. We loaded the truck until Thursday morning, loaded Jeff's car on the transport trailer, then hit the road. (For any map fans out there, we left from Mount Vernon, Washington, southbound on I-5, then to I-90, I-82, I-84, and finally I-15. We drove across Washington, Oregon, Idaho, Utah, a corner of Arizona, and finally into Nevada, a trip of about 1300 miles.)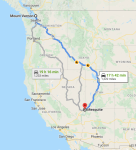 My nephew, a commercial truck driver, took a few days off work, and drove the truck with car trailer for us.
Plans were to drive to Twin Falls, Idaho, the first day, and stay over in a motel. We made it as far as Umatilla, Oregon. (We learned a fully-loaded truck like that does well on flat ground, but it has zero power on hills - and there are a LOT of hills along that road. Dropping from 60-70mph on flat ground to climb every single hill at 25mph really slowed us down. We slept in Umatilla, then hit the road Friday morning. We finally passed through Twin Falls on the second night. (So much for that motel reservation!) By that time we were starting to feel a time crunch, so we toughed it out, and drove the rest of the way to Mesquite, arriving at 5:30AM on Saturday. While my husband and nephew slept in a local motel, I met with the owners of the rental house, to go over house details, and to collect the keys.
We started unloading the rental truck at the house by mid-afternoon Saturday. It took till 1:30AM Sunday to finish. Back to the motel for a second sleep, and we were back at the house by 9:00AM Sunday morning to set up Jeff and the pets in the house. At 11:00AM my nephew and I left for Las Vegas with the empty truck and trailer, and the minivan. We dropped the truck and trailer at the rental lot, then drove the minivan to the Las Vegas airport. We turned that in, grabbed a quick bite of lunch, and boarded an Allegiant flight to Bellingham, Washington that afternoon. Nephew's wife picked us up at the Bellingham airport, and drove us to nephew's home. I visited with them and my sister (who had moved from my home to her son's home - she had been living with us, but opted not to move to Nevada with us.) I climbed into the pickup I'd purchased to assist with the cleanup of the Washington house, and I drove back to Mount Vernon, Washington, and checked into another motel for two nights. (Are you exhausted yet? It's not over...)
I was at my Washington house first thing Monday morning, June 29, to meet carpet installers. As part of getting my house ready to sell, I had new carpeting installed. While they were doing their thing, I continued to do final things around the property. The carpet was done Monday afternoon (they did a fantastic job!) but the house was a mess. I had no idea that carpet pads acquired such dirt and crud in them! Everything needed to be cleaned again. So I then spent the rest of Monday, and most of Tuesday re-cleaning the already-cleaned house. By Tuesday night, it was sparkling. On Wednesday morning, I finished sweeping out the garage, and loading the pickup for that final run to the dump, then met with the real estate sales agent at the house, went over all the last details he needs to know to properly sell the house, and I handed him the door keys.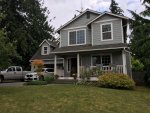 I drove the pickup to the dump and offloaded the final pile of stray boxes, leftover cleaning supplies, and whatever - and I was done with it. I drove the pickup to the dealership where I'd purchased it, and sold it back to them for nearly what I'd paid, (a prearranged deal with them.) They gave me a ride to my house, where my car was waiting for me, stuffed to its limits with the leftovers that hadn't fit into the rental truck. I waved goodbye to the house for the last time, and headed off to take care of last minute errands. I stayed over that last night with close friends, and left Mount Vernon for Mesquite early Thursday morning.
I made it to Twin Falls, Idaho, in record time, (It's amazing how much faster a BMW with a twin-turbo high performance engine goes, than a loaded 26-foot truck towing a trailer with a car on it...) I checked into a nice motel for one final night, and spent the evening with Tugger
@Passepartout
and his lovely wife.
We enjoyed a relaxing evening seeing the amazing sites in and around Twin Falls,
and I was back at the motel and asleep almost before dark. I got up early, climbed into my car for the final leg, and headed out. I arrived in Mesquite for the last of this ordeal at lunchtime Friday, July 3rd. We unloaded the car, and that, as they say, was that. I had a great night's sleep and now I get to start the "What's in THIS box?" unpacking part.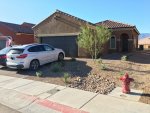 Would I do it again? Yes. Would I do it differently? Yes. I would have gotten rid of everything I owned, grabbed my toothbrush, and headed out the door. We moved a lot of things that were important to us, but there is also a lot of stuff we will never, ever use. As we unpack, I am going to sort things (again!) and if it isn't something we absolutely need, it's going away. We simply do not need all this stuff. If we'd moved everything, without throwing away anything, we'd have needed two trucks. It's ridiculous. We have minimal furniture - most everything we moved was in boxes. Lots and LOTS of boxes...
Major lesson learned: A truck rental reservation is not really a truck rental reservation. I had a very specific timeline to get all this done, and keeping to the schedule was critical. I had a 26-foot truck reserved with U-Haul for OVER A MONTH before the pick-up date, which was Tuesday, June 23 at 3:00PM. They called me at 5:00PM on Monday, June 22nd, (less than 24 hours before), to tell me they did not have a 26-foot truck for me. They wanted to give me a 20-foot truck and a U-Haul trailer, which they said was to make up the difference in space. I was outraged, incredibly pissed off, and astounded that they could just change things at the last minute like that. I asked, in thinly-veiled, QUITE angry tones, exactly how they expected me to drive a truck, tow a trailer, AND tow a flatbed auto transport trailer all with the same truck? Crickets. After about ten seconds, the jerk said, "This is what we're offering you. Take it or leave it." (Yes, he said that.) I repeated my question. And he repeated his answer. And then he said, "If you really think you need a 26-foot truck, and you want it THAT BAD, you'll have to drive to Spokane, Washington, to pick it up. That's where the closest one is." I said that Spokane was 350 miles from where I was, and there was no way I was going to do that. He repeated his first comment, and said, "This 20-foot truck is what I have for you. Do you want it or not?" I told him that was absolutely not going to work for me, and I hung up the phone. What an a$$hole!!! (I will never deal with U-Haul again. Renter beware.)
I gave myself time to calm down, and started making calls. Penske Truck rental to the rescue. Not only did they guarantee me a 26-foot truck and an auto transport trailer, but they had it available by 2:00PM on Tuesday, an hour before the U-Haul was supposed to be ready. (They brought it in from out of the area, at their own expense - U-Haul refused to do that.) I negotiated the price with them, and still paid several hundred dollars more than I'd have paid for the U-Haul, but I got the truck I needed, and it only had 1800 miles on it - nearly brand new. My nephew was really happy with it. Other than the slow-on-hills thing, which I hear is common for all rental trucks, it was a fine vehicle.
So, at the end of this very, very long ordeal, we are here. Next steps are to unpack and set up the Mesquite rental house, buy some furniture, get the Washington home sold, and start the house hunting process here in Nevada. I'm still a bit sleep deprived, but thrilled I don't have another day or two or three behind the wheel of the car. I'm kind of done with long drives for awhile.
Meanwhile, it's sunny, dry, and beautiful in Mesquite. Washington was pouring rain, gray, and cold when I left. Poetic justice, for sure. Now, to see what the next adventure will be...
Thanks for helping me through this process!
Dave
* Yes, now that we're both retired, I can publicly confirm the information that some of you have already asked me: Yes, I'm gay. My husband Jeff and I have been together for 22 years, and were married in California in 2008. I apologize to anyone who may feel they were misled all these years. It was not due to any sort of deception. I chose the non-gender "spouse" term specifically to use here as a way to protect his privacy at his work. There are only three Costco's north of Seattle, and only one Head Refund Cashier in each warehouse. He would have been very easy to find. He doesn't participate on Tug, and I didn't want him to be put into any kind of awkward position by someone who may have had an agenda. Now that he's retired from Costco, it doesn't matter. I don't like withholding information from anyone, but this knowledge is something you can't UNsay to someone. If anyone wants to have a conversation about this, send me a private message, and we can discuss it offline. Thanks.
Last edited: